Creating an Accessible Bathroom
Written by American Standard Walk-in Tubs Canada, June 2021
The way we live in our homes today, and how aging well has become so important that builders, renovators and homeowners are starting to pay more attention to creating an accessible and universal design plan for today's generations.  Products, design details and materials now reflect todays needs in meeting accessibility requirements of older adults and those with mobility challenges, and no longer look institutional.
Safety and design have become paramount in bathrooms, as we've seen statistics of fall related injuries and the demographics of the many people visiting emergency rooms because of their falls.  Today, more than ever as we are spending more time in our homes, we want our loved ones and neighbours to be injury-free in the most used rooms.  With a legacy surpassing 150 years of excellence, we've put together a list of things to consider in your bathroom design to allow customers at any stage of life maintain safety, comfort & independence regardless of mobility limitations.
Access:  If your bathroom doors are less than 32" wide, you may have difficulty in passing through them, whether you are carrying towels if you are using a walker or wheelchair.  Optimal door widths to accommodate people and daily aids to living are 34"-36".  There are different types of doors-pocket doors, hinged doors, or even sliding barn-type doors have made a presence in today's renovations.  If you are a fall risk, consider reversing the hinge of the bathroom door to open out of the bathroom instead.  If you were to fall behind the door, EMS will be able to reach and assist you faster.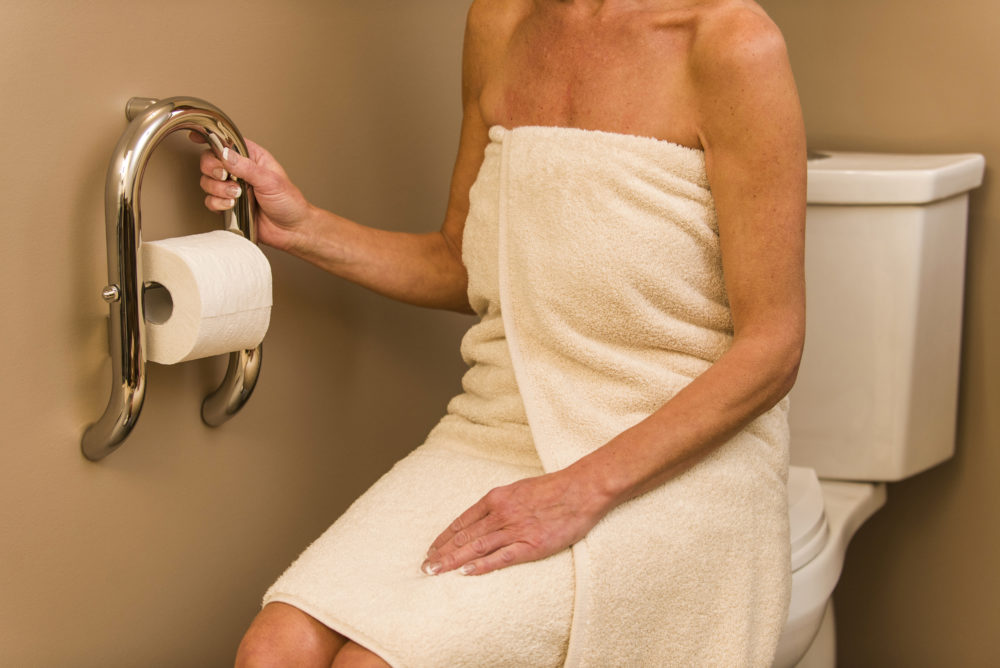 Grab Bars:  Bathrooms have been identified as the leading room where people have sustained falls & injuries resulting in ER assistance, that they've sustained while bathing/showering, getting in/out of the bathtub, tripping or while toileting.  Adding a Superpole, grab bar, or decorative support accessories used specifically for lateral support, can greatly reduce the risk of falling.
Easy to Clean Surfaces:  as people age, it becomes more difficult to clean and maintain high maintenance surfaces such as stone, tile/grout, and glass.  Choose materials that are easy to clean.  There are plenty of choices, and these can still match your new bathroom décor.  When it comes to germs, it's important to stay on top of keeping things clean.
ADA Toilets and Accessible Countertops:  Getting older means that you make have stiff joints or knees that have been replaced.  Choosing toilets that have a taller seat height makes them more comfortable and accessible for all.  Closer to a 17" chair height will be more helpful during all the ups and downs that you will incur.
Countertops and right-height pedestal sinks that are 34" high, help reduce strains on knees and backs from prolonged use and standing.  Providing a multiple-height counter will be more inclusive to the needs of everyone in the home, from young children to those who need to sit in front of a counter with knee space below.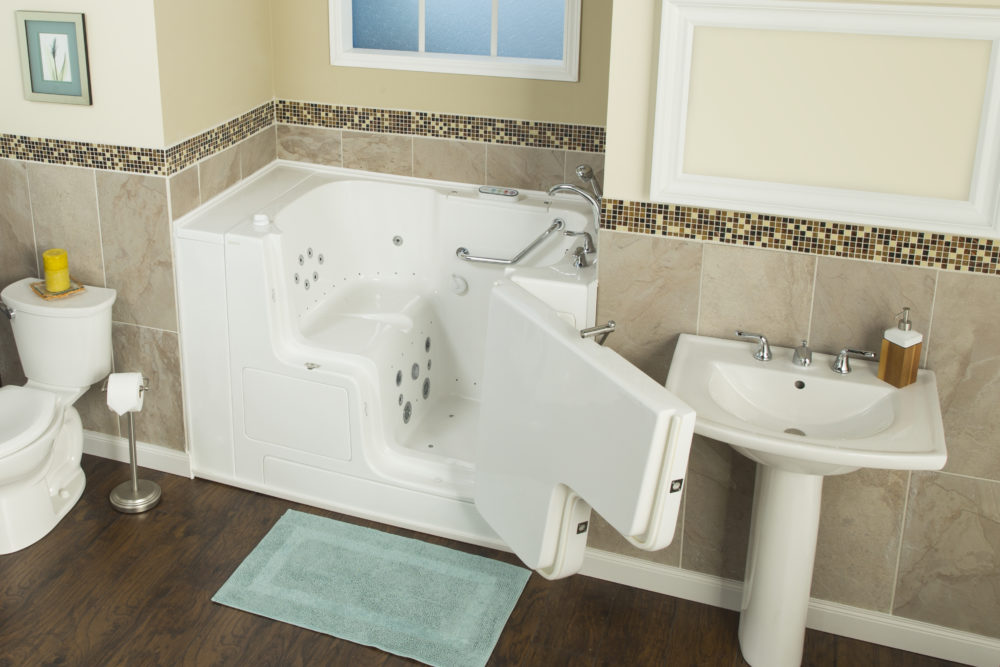 Accessible Bathtubs or Low/Zero-entry Showers: Joint stiffness, mobility challenges, frailty and balance issues will make getting in and out of a bathtub and shower difficult, if not resulting in falls.  A zero-entry shower pan or constructed floor is a better option as you don't need to lift your legs over a threshold to walk into the shower.  However, you will need a seat, whether built-in or freestanding.  Just be careful to allow for access to easily move in and out of the shower; and be careful when using glass walls if you have visual challenges.  An accessible bathtub with an outward opening door is a better option because it is fully accessible even to wheelchair users, and the built-in integral seat will not move.  On a ComfortSeries™ bathtub, all the controls are within-arms-reach, and a door prevents a bather from falling out, even if standing to shower.
Single Lever Faucets:  Selecting a faucet with lever handles makes the faucet easier to operate for limited grip strength, and by choosing a single-lever faucet, it makes it that much easier.
Lever Handles:  If you have arthritis or any other grip-preventing challenge, you know that round door knobs are difficult to turn; replacing all your door handles with lever style, will make it easier and more comfortable to use as your needs change.  There are several finishes that can match your faucets, or other finishes in your home.
Storage Space:  Bathroom cabinets and countertops can easily become cluttered with medications, products, and other daily essentials.  This in turn makes it harder to clean and access your bathroom.  Plan for proper storage of necessities, in easy-to-reach locations.  Keeping it organized means that you will know where each item is, where and when you need it.
Non-Slip Rubber-backed Bath Mat:  Any rug in a bathroom is a trip hazard, especially if it moves.  However, if you place a rubber-backed rug by your bathtub or shower, it will be handy to prevent any slips from wet feet.
Universal Design doesn't mean it has to look institutional, and in fact could look like a spa bathroom, just safer and more accessible.  As more Older Adults continue to age, bathroom and home designs will continue to evolve and improve to accommodate accessible design elements.
With American Standard's luxurious walk-in tubs, stylish easy-to-use faucets, and RightHeight® toilets, you can create a beautiful bathroom that safely and comfortably supports independently remaining at home.
Are you considering including an accessible walk-in bathtub?  Get a free estimate for the best walk-in tub in Canada, by clicking the button below.