October 2022
by Lee-Anne Creery
The day is finally here—the one that you been thinking of and planning for years.  From organizing your finances and investments, to mapping out when and what day you will announce your next chapter of living.

People around the world, are living longer, healthier lives.  In Canada alone, our group of 7.337M older adults is projected to grow to 9.407M by 2030, and 10.745M by 2040.
The World Health Organization (WHO) has declared 2021-2030 the UN Decade of Healthy Ageing, to focus attention on what we all can do to improve the lives of older people, their families, and the communities in which they live; to ensure that older people can fulfil their potential in dignity, equality, and in a healthy environment.
Healthy Aging and those next steps don't have to be difficult, but deciding on details early can help make it easier and according to your Healthy Aging Plan.
Are you prepared?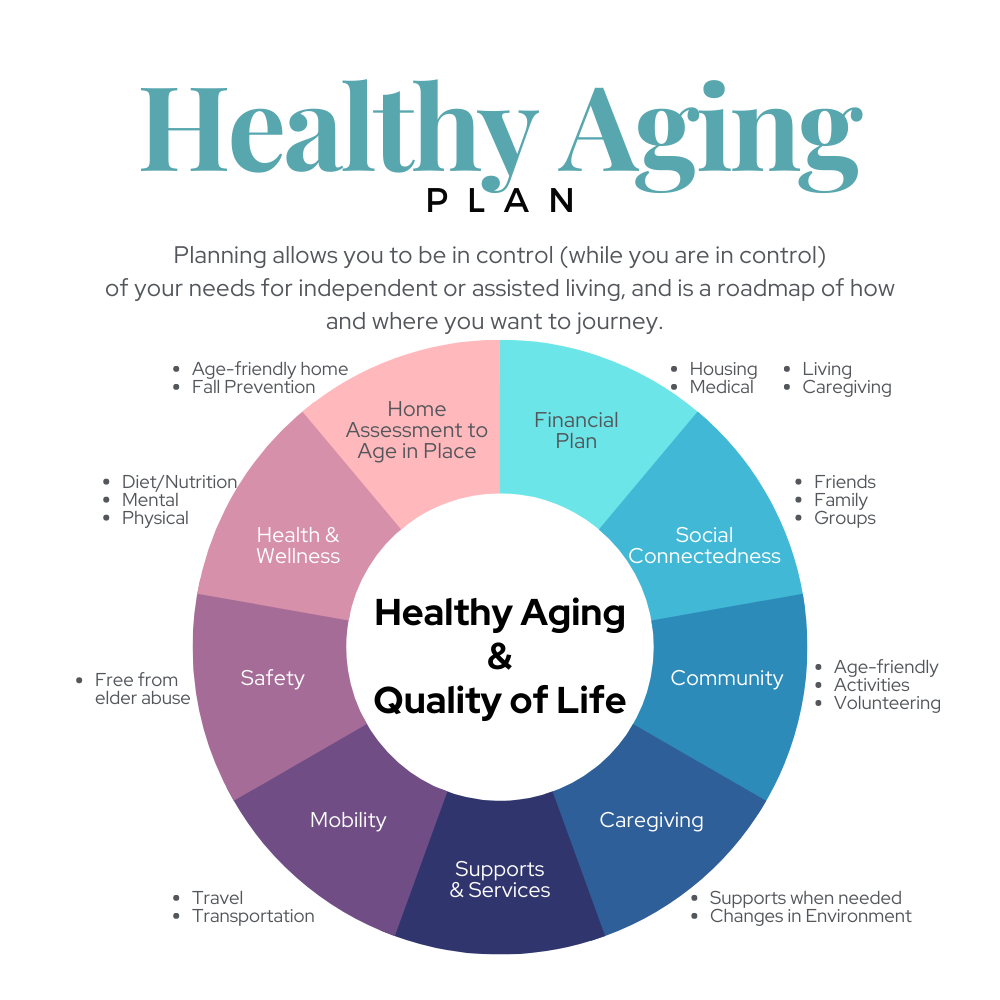 The National Institute on Aging identifies influential factors that are within our control in taking care of ourselves, such as exercise, a healthy diet, taking care of our mental and cognitive health, as well as our social well-being.  Despite what big plans that you have in mind for your future, the most important consideration for your Quality of Life and how you choose to live it, should be at the grassroots level:
Health and Well Being

Living Environment
There are many health professionals to advise and assist you in maintaining your weight, diet, blood pressure, heart health, chronic conditions, and emotional health; but who do you go to for advice on your living environment to ensure that your home gets a medical and safety checkup just like you do?
No matter how well you take care of your own personal aging, accidents happen—and they can be quite costly.
In a perfect world, our living environments (our homes) should be accessible to all who live and visit you.  The sooner older adults can assess their living environment, the easier that it will be to make changes or adaptations to support healthy aging.
If you plan in your retirement to travel, or spend time with family & friends; shouldn't you plan for your physical and emotional safety as well?
From the moment that you step into your home, it should be a safe haven—from the front entrance, through to the kitchen, bedroom, and to the most used and most personal room—your bathroom.
Ideally, being able to Age in Place in a home that is all on one floor, is the safest type in terms of eliminating stairs.  Realistically though, there are more two-storey homes than single-storey, so addressing stair safety is important, no matter what age you are.
Handrails—are they fastened properly, are they installed correctly, and at the proper height?
Treads/Risers—do the height & depth of the stairs meet standard Codes, that would prevent too narrow of a step, or too high between steps?
Surface Material—are the steps carpeted, non-slip or a slippery surface?
Clear/Clean—are your stairs clean and free of clutter?
If all your stairs (including outdoor steps) have been given a green check, and you are still struggling to safely ascend/descend them, perhaps installing a stairlift or elevator is your best option to get from floor to floor.
Here is a home safety checkup list of areas in your home that should be reviewed with a goal of safe and healthy living through your years.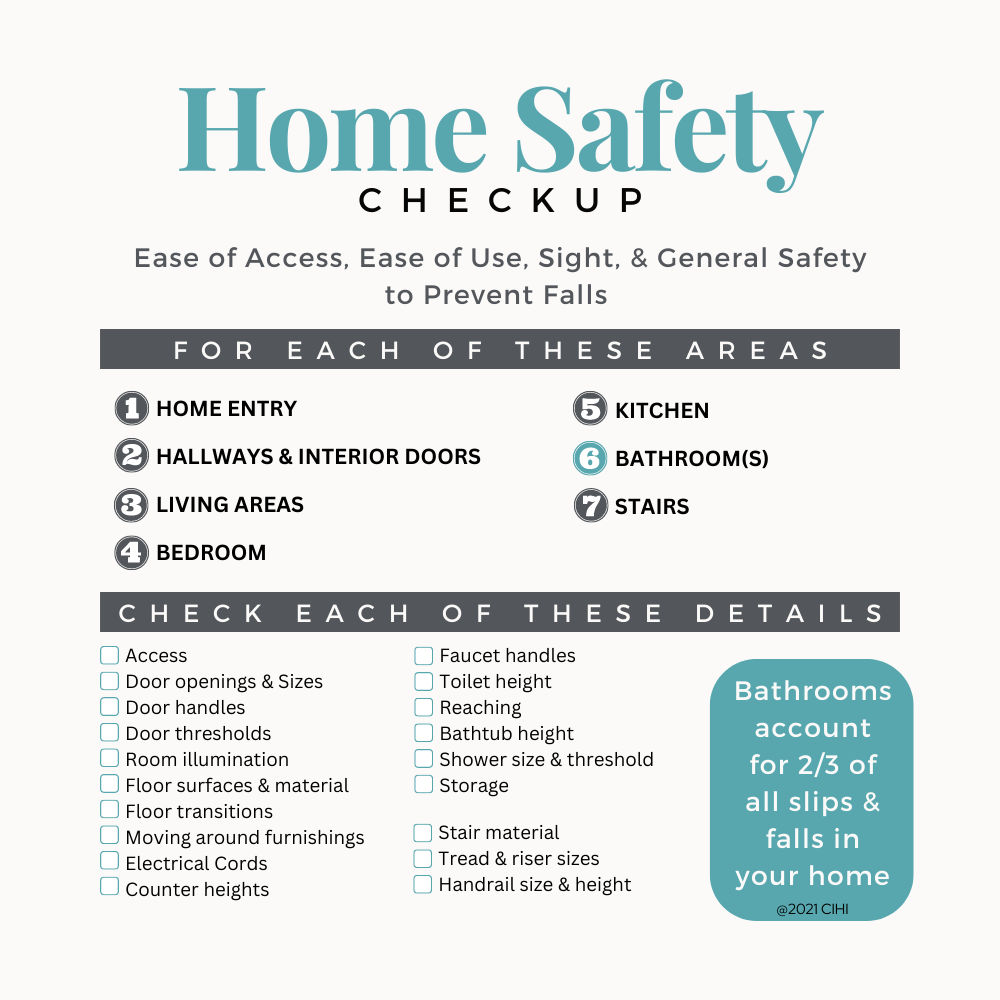 According to Statistics Canada, 2/3 of all falls at home occur in the bathroom, and most people falling are older adults 65+.
Bathrooms are the most often used room in our homes, and are our most intimate areas; because of that, they are usually private and personal, and not considered until an accident occurs.
Some bathrooms are used as spa retreats where you can relax, unwind, eliminate stress, or find therapeutic relief from aches & pains; others are used for their intended purpose of cleansing and toileting.
Regardless of how fancy your bathroom is or not—SAFETY should be the primary focus in how it is used, how it is organized within, and how it will grow with you and your aging needs.  Universal design is usable by everyone, and can be designed attractively and comfortable.

Consider Ages and Stages: age is inevitable, so planning well through the stages of use and needs, allows you to keep using your bathroom independently until you can no longer stay in your home.
Surfaces—floor surfaces should be non-slip
Materials—consider low-maintenance materials and wall surfaces for easy cleaning
Heights—as we age, higher seating protects knee & hip joints, and higher countertop levels allows a better work and cooking space; however for older adults using walkers or wheelchairs, a more universal counter height would be beneficial
Space—ensure sufficient room for movement to prevent tripping and that would allow walkers and wheelchair use
Lighting—insufficient lighting will impair tasks, movement between rooms, and hinder safety.  Consider types of lighting that will not cast shadows
Storage—ensure there is a place for everyday items, and that they are within reach.  Clutter and over-reaching can cause accidents
Contrasting Colours—with changing vision as we age, it is best to look for contrasting colours between floor transitions, counter surfaces, furnishings, and accessories
Ease of Use—lever handles on doors, faucets and walk-in tubs helps those with arthritis and other physical impairments
Door Sizes—aim for 34"-36" for interior doorways, which will allow for optimal movement between rooms
Ease of Maintenance—consider low-maintenance materials and wall surfaces for easy cleaning
Accessibility—are rooms on one level, or are there numerous height transitions or steps?
Potential Trip Hazards—carpets should be securely fastened or removed.  Bathmats should be rubber-backed to prevent movement, but are needed to prevent slips from wet feet. Shower thresholds need to be visible.
Bathtub vs Shower—traditional bathtubs can be dangerous, and aging sometimes prevents being able to step over the side.  While showers might be the answer for accessibility, glass doors are unsafe with changing vision needs, future caregiving needs, and the inability for proper seating that you can be within arms-reach to all of the controls.  A walk-in bathtub with shower, is an option that will meet all needs for Ease of Use, Accessibility, Safety & Comfort.  For those requiring circulation assistance, the included therapeutic water/air massage jets are an added bonus
Grab Bars—properly placed and properly secured grab bars can help you support yourself and remain confident when they are needed.
There are many elements to consider in ensuring your bathroom will safely age with you and your stages—and there are plenty of bathroom products on the market to help.  From Right-Height toilets, lever faucet handles, to accessible bathtubs.  It is peace of mind when bathroom fixtures and aids are properly sized, mounted and secured.
American Standard's DTC (Direct-to-Consumer) Division works directly with customers to provide bathroom safety assessments.  They are Certified Aging in Place Specialists (CAPS) and Senior Home Safety Specialists (Age-Safe Canada), so they know what the most common issues are, and can provide the best advice, through all Ages & Stages.
American Standard knows bathrooms, and has been manufacturing for 150 years—innovative products that allow you to be comfortable and independent, and with many design patents, some of the safest and most hygienic products available.
Like the ComfortSeries™ accessible bathtubs that not only allows you to access it from a seated or standing position, but provides the most therapeutic bath air & water jets available, providing the ultimate experience in relaxation, pain relief & rejuvenation at the touch of a button.
It's the ideal product to grow with you, even if you just want to have a shower.
And because American Standard knows bathrooms—we know that as you age and go through changing stages, an accessible bathtub is the necessity for keeping you safer, and it's dependable: there for you when you want and need it.
When American Standard Safety Specialists complete a free Bathroom Assessment for you, they will provide advice based on your Age & Stage to prevent falls from occurring.  Bathcare can help you get started before you schedule an appointment.
Did you Know?
There are Home Accessibility Tax Credits available to you when you choose to make your bathroom safer and more accessible.
As we enter the month of October and Active Aging Month, we celebrate Canadian Older Adults and Seniors, and we are committed to keeping you Safe, Independent, and Well.
Learn More about American Standard's bath products for Seniors Safe at Home.
American Standard Walk-in Tubs Canada         1-844-867-7737
Social Media: